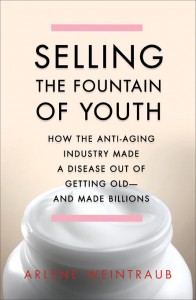 Welcome to the brave new world of the anti-aging industry. A business that used to revolve around powder and paint—subtle agents to enhance beauty and help one age gracefully—has been overrun by steroids, human growth hormone injections, plant-based "bio-identical" hormones, and never-ending web ads for red wine extract.
In Selling the Fountain of Youth, Arlene Weintraub, who spent more than ten years as a science reporter at BusinessWeek, takes us inside this world—from the internet marketers behind the rise of açai berries to the backrooms of local pharmacies, where made-to-order, non-regulated compounds are produced; from celebrity promoters like Suzanne Somers and Oprah to the self-medicating doctors who run chains of rejuvenation centers to tout their "miracle" cures. Weintraub brings readers inside the trade organizations, for-profit companies, and other players that have sought to legitimize anti-aging medicine—"medicine," she argues, that's based mostly on hope, leavened with stories and weak science.
Weintraub also reveals the remarkable economic and cultural impact of anti-aging medicine. The treatments, most of which have not been subjected to double-blind scientific studies, could, the author argues, actually reduce a patient's overall health even as they drain their pocketbooks.
It's not a pretty story, but Weintraub doesn't flinch from revealing the high cost of staying young. Before you decide to pop your first pill or take your first shot, read this book and learn the true costs of the quest for eternal youth.
Press Contact: Michele Jacob, michele.jacob@perseusbooks.com
Praise
"This hard-boiled hard-boiled exposé probes not serious anti-aging research but the hucksterism in one seamy corner of the longevity industry: the booming field of hormone replacement therapy, whose physician-entrepreneurs prescribe human growth hormone, testosterone, and a medley of female reproductive hormones to help oldsters build muscle mass, restore libido, and go surfing. Weintraub, a former senior writer forBusinessWeek, portrays the hormone replacement sector as a cesspool of unproven claims, unacknowledged side effects, and marketing scams….Weintraub mixes acute reportage with a censorious tone."  —Publishers Weekly
Copyright © Reed Business Information, a division of Reed Elsevier Inc. All rights reserved.
---
Wrinkles, fat, and low libido start to sound pretty good after reading this unnerving exposé of America's $88 billion anti-aging industry by journalist Arlene Weintraub. Her elixir of deep research and smooth storytelling delivers a sometimes-gag-inducing dose of reality about the seedy pseudoscience of growth hormones harvested from cadavers, injection spas in Mexico, and bogus anti-aging cocktails (urine, anyone?), as well as the physician entrepreneurs and whack Internet pharmacies now burgeoning to make a buck. Our advice: Take her medicine, not theirs. —Fast Company
Copyright © 2010 Mansueto Ventures LLC. All rights reserved.
---
"Weintraub offers a soup-to-nuts accounting of how an $88 billion industry grew out of baby boomers' vanity." —Bloomberg BusinessWeek
Read more here: The Old and the Beautiful

---
"Business Book of the Week: The 'desire to defy age' isn't exactly a new phenomenon, said Paul Harris in the London Observer. But, as Arlene Weintraub reveals in her meticulously reported book, over the past decade the revenue of the 'anti-aging industry' has ballooned to an estimated $88 billion worldwide." (September 16, 2010) —The Week
---
A "powerfully seductive syllogism of the 'anti-aging industry.'" —AARP, The Magazine 
---
"By medicalising [sic] the process of growing old, sellers of anti-ageing "medicine" have made fortunes based on unfounded claims, [Weintraub] argues. Time and again, vulnerable people are spun a yarn and relieved of their cash. Some of the stories are shocking … her scepticism [sic] will be food for thought for anyone tempted by promises to turn back the clock." —New Scientist
---
"As founder of Red Hot Mamas Menopause Management Education Programs, as well as a member of the aging baby boom generation, I clearly recognize that knowledge is power. To enjoy optimum health at menopause and beyond we need to become aware of certain anti-aging marketing pressures. I thank Arlene Weintraub, the author of Selling the Fountain of Youth for her dedication and hard work in writing this groundbreaking book."  —Red Hot Mamas

(Copyright © 2010, Red Hot Mamas North America, Inc.)
---
"The book is most enjoyable when Weintraub examines the consumer culture of the 1990s and 2000s that propelled the industry to billion-dollar success: an aging baby-boomer population; an obsession with all things natural/organic/vegetarian; a media-driven, Hollywood-centric obsession with beauty and agelessness; and the appeals to feminism and choice often used by the anti-aging industry in product copy and media coverage that trumpet a woman's right to choose alternatives to Big Pharma. Superbly researched and written, Selling the Fountain of Youth tells an intriguing story while providing readers with a timely consumer report." —Bitch Magazine
(Copyright © 2010 Bitch Media)
---
"Armed with Weintraub's excellent investigative work, and the knowledge that few truly medically sound (i.e., controlled, double-blind, placebo, statistically significant) studies have been conducted on most of the anti-aging therapies in the marketplace, the consumer is likely to find herself feeling a little less hopeful but also a lot less foolish." —Charleston Post and Courier
Read more here: 'Selling' Cuts Through Veil of Anti-Aging Industry
---
"Weintraub's book is serious journalism, packed with specifics, and not for the casual reader. But it should be required reading for baby boomers and others who have been sucked into the anti-aging industry to the tune of $88 billion a year." —The Commercial Appeal Memphis
Read more here: 2010 Fashion Books Tackled Topics From Weighty to Frivolous
---
"Selling the Fountain of Youth is a wild, disturbing look at the anti-aging industry, an industry that Weintraub believes could be triggering one of the biggest medical hoaxes in history." —Tucson Citizen
---
"Fads, trends, international marketing, and legitimate players as well are considered in a thorough investigation of the economic and cultural impact of anti-aging medicine…." —California Bookwatch
---
"There is no scientific evidence suggesting that compounded 'bioidentical' estrogen products are safer or more effective than conventional prescription estrogen products. And yet every day I see patients who have been misled by anti-aging, menopause 'experts' into believing that the compounded hormones they have purchased are safer, and work better than those I prescribe. That so many of my patients have been misinformed by greedy entrepreneurs who take advantage of women who desperately want to feel better is, at the least, disturbing. Any woman who places her trust one of these an anti-aging 'experts' needs to read Arlene Weintraub's Selling the Fountain of Youth to understand that there is no scientific basis for their assurances or recommendations." —Lauren Streicher, Assistant Professor of Obstetrics and Gynecology, Feinberg School of Medicine, Northwestern University
---
"A remarkable piece of investigative reporting on the questionable origins and corrupt inner workings of the anti-aging industry.  Revelations about shoddy 'science,' money-hungry entrepreneurs, dubious academic credentials, and actors masquerading as medical experts will shock insiders and unsuspecting readers alike. Copies of this book should be given to all States Attorneys General, and millions of baby boomers should read it as a warning and a wake-up call. Selling the Fountain of Youth may very well prove the beginning of the end of an industry that promises more than it can deliver." —S. Jay Olshansky, PhD, School of Public Health at the University of Illinois at Chicago, and the Center on Aging at the University of Chicago
---
Read more about Selling the Fountain of Youth here and on Facebook.
Now available at Amazon and Barnes & Noble